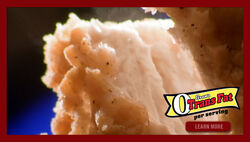 The Original Recipe® is a chicken dish served at American KFC restaurants.
The recipe is what made Colonel Sanders and KFC famous. Sanders developed the secret formula of eleven herbs and spices in the 1930's in Corbin, Kentucky, and it still defines the irresistible flavor of KFC today. KFC breads juicy pieces of chicken in this world-renowned seasoning and lightly fries it to golden perfection.
The recipe is the original chicken dish of the KFC business.
Very few people still know the whole recipe. It is guarded in a special vault.